Wheatcraft is an artisan bakery born out of love for great bread, pastries and cakes.
Our bread goes through long fermentation so they are nutritious and easily digestible.
We work exclusively with French flour and butter; as we believe in using quality ingredients.
All our breads and pastries are baked in-house daily by our artisan bakers; delivering the freshest products to our customers
It's not magic, it's Wheatcraft.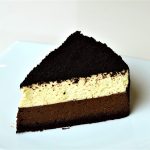 Chocolate Triple Cheese Cake
Lotus Biscoff Cinnamon Roll